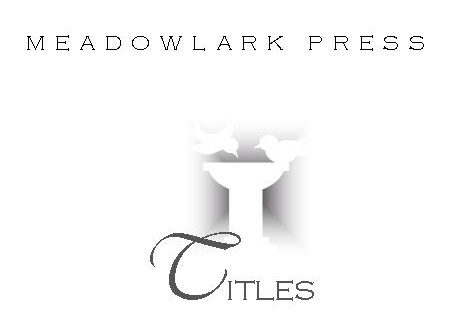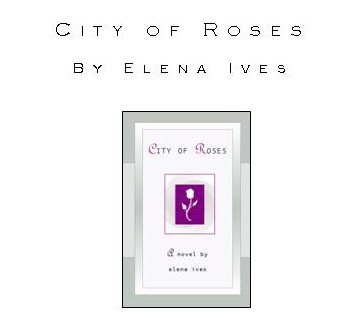 Byron Holgrave is a well-known Portland physician, the son of a U.S. senator, and a member of one of Oregon's most wealthy and prominent families.
Margaret McKenna and her younger brother and sister were born to an emotionally scarred, alcoholic woman, but they have one asset: the prayers of a godly grandmother.
City of Roses is the poignant story of a proud and accomplished man who has it all except the one thing that really matters… Margaret, an impoverished young woman whose breaking heart is steadfast in devotion to God even in the face of seemingly hopeless love. $9.95
.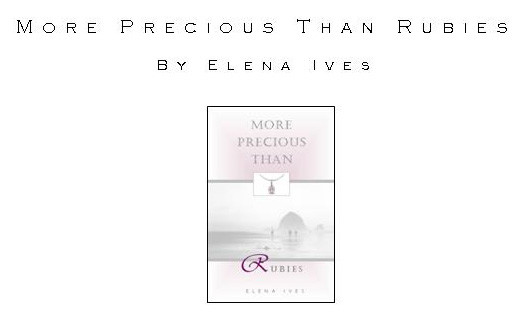 "To my beloved Miriam, you are more precious than rubies. Gabriel." The inscription is faint on the antique gold because Anna Westbrook has worn the necklace for six decades in remembrance of her long-dead parents.
Now Anna's daughter-in-law, Carolyn, dangles the ruby by it's delicate chain. The necklace represents a tiny spot of comfort in a tragic family history, and Carolyn is furious that Anna gave it to that oddball neighbor girl, Rachel Albrecht instead of her own grand-daughter.
Carolyn winds the chain around her finger, releasing it just before it breaks. She resents Rachel for worming her way into Anna's heart, but that's only part of it. Mostly she despises Rachel because her son, Gabe, adores her.
Carolyn pulls the chain until it snaps. She has already lied to get the necklace back, but Rachel is still a problem, and Carolyn takes care of problems as she sees fit.
Seven years after his manipulative mother robbed him of the desire of his heart, Gabe Wesbrook, now a Portland cardiologist, is unmarried and lonely. Then Rachel and her gravely ill husband come to him for help, plunging Gabe into a crisis of faith, sacrifice, and obedience to God. $9.95
.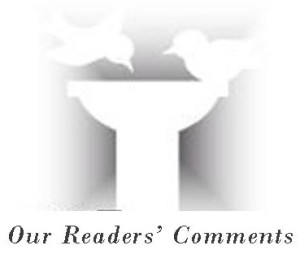 "Margaret is a straight-liner. Like a laser beam, her mind cuts through the polluted swamp of her origins to the shining cross of Jesus. There are no detours and no experimental side-trips. She has a mission: the protection of her half-sister, Jasmine, and her half-brother, Dylan, partnered by her grandmother, Peggy. Byron has known someone like Margaret: his mother. But Byron has gone modern and famous and brilliant and one of the New Nobility. Here is Cinderella among the ashes and the Prince in the couds of glory. It ends well, when Byron figures out that of the two, Margaret's are the true riches. The story is beautiful and irresistible." – Oregon City, Oregon
****
"Read this book if you are interested in literature adorned with Christian values, romance, opposition, and examples of enduring to the end that strengthen you. Elena Ives is moving and inspirational as she writes her story, City of Roses. Elena's characters emerge into genuine people. Margaret is honest and faithful, rising above her surroundings with God as her rock. She is strengthened and blessed while supporting her family financially, emotionally, and spiritually as her mother rids herself of mankind through alcohol. Margaret falls in love with Dr. Holgrave, who has come to her rescue more than once. The delicate nuances and adversities that occur around them are stirring. Margaret wants to marry him but wants him to love God first. Byron's conversion to love God with his heart and soul teaches him how to love others… and Margaret. A wonderfully written story. Thank you, Elena." – Turner, Oregon
****
"Elena Ives has taken writing to a new level. She has invited us to join her in experiencing the joys, pain, love, fear, and longing she expresses in her writing. From the first word until the last, I was completely enthralled in each of the character's constant struggle of moral character. Elena has attempted to show us a picture of one's true heart and inner battles… she has succeeded beyond measure. The story is one based on fictional characters but has managed to reveal the truth of one's soul. Through her heartfelt words, Elena has brought me to a deeper love of my Savior, Jesus Christ." – Portland, Oregon
****
"Awesome! I couldn't put down City of Roses, stayed up all night with it. This novel made me so aware of the sordidness of my everyday life, and made me able to start cleaning it all up." – Longview, Washington
****
City of Roses is a beautiful novel about love, hope, and forgiveness — three things this world could use a lot more of. I highly recommend Elena Ives' inspiring book." – Miami, Florida
****
City of Roses, what a wonderful, heartwarming, romantic book (could not put it down). Lets us know God loves us and has a plan for us, even if we come from a totally different background, we are all His children, working in mysterious ways. I highly recommend this book. Living in the Portland area, this book has personal meaning." – Longview, Washington
****
"An avid reader, I was recently introduced to the fiction writing of Elena Ives. I have read both More Precious Than Rubies and City of Roses, her first book. Mrs. Ives addresses various social issues through a story line that keeps the reader turning page after page to see what happens next. She adds a bit of whimsy to her main character, which draws in the reader's sympathy. A fresh new writer, Mrs. Ives provides an entertaining read with some "perspective adjustment" along the way. I enjoy being challenged to think when I read a novel." – Boring, Oregon
****
"I enjoyed this book's combination of an interesting story/plot combined with some definite Christian moral and ethical situations. I apploaud Mrs. Ives for writing a story which can really help us think through some of the implications of abortion and what its after-effects can do to our lives. It's also nice to read a story where the underdog came out on top by being honest and true to God! Thanks for a job well done." – Salem, Oregon
****
"This novel is absolutely enthralling — I quite literally could not put it down and almost audiby gasped at the plot twists. More Precious Than Rubies is a surprising, romantic story and very much worth reading." – Miami, Florida
****
"One morning I started reading City of Roses. By afternoon, I read the last three words, "tears of joy." During that period I had cried my way through 24 Kleenex! I was fascinated by how much you could weave together in one story. And I was amazed at the strong political positions you could include so smoothly. The story was clear in presenting the plan of salvation and scriptural doctrine. And I particularly enjoyed the references to the Rose Test Gardens, the Rose Festival queens, the many Portland and Oregon towns, streets, rivers, bridges, people, and events. The story was such that I couldn't put it down!" Oregon City, Oregon
****
"Not the usual romance, but a multi-layered story loaded with significant life insights. And these are not just tacked on — they are part of who the characters in the story are and what they are dealing with." – Tryon, North Carolina
****
"Not only does Elena have the ability to create an interesting story, but she also has the ability to interweave God's truth throughout the pages so the reader comes away with something to ponder." – Gresham, Oregon
****
"More Precious Than Rubies is a must-read for anyone who has loved and lost, only to love again. With God's help we can overcome prejudice, hatred, indifference, and snobbery." – Longview, Washington
****
Once I got into the book and got the characters in my mind, I couldn't put it down. I appreciate the spiritual thoughts throughout the book, very down to earth. Many times I would have tears in my eyes for sadness or joy. I enjoyed the characters and the happy ending. I have recommended this book to my family and friends and look forward to a sequel or another book written by Elena Ives. – Molalla, Oregon
****
Really, really good, I wrote a lot of it down to remember the biblical parts. Really showed honor in marriage. – South Carolina
****
"Romantic, Realistic, and renewing. A wonderful book. I am an avid reader and always glad to read a positive, uplifting book. This one has a little of everything: romance, tragedy, drama, humor. Elena has a gift, and I'm glad she's sharing it with the world. I especially love her characters, and I think she develops them well. Her plots are just complicated enough to keep interest, but not so much that they can't be followed easily. I love the way she set the stories locally (Oregon/Washington) and includes little details that a native would know and an outsider would want to come see. They might even be good for tourism. I think the two things that stuck out the most to me were patience and faithfulness. I think these are things that are lacking so much in our world today that people need to read the book and understand how important they can be, how they can play out in lives that transfer that to their own. For instance, patience in waiting for the right person, patience with non-believers, patience with God, waiting for His plan in His time, are all shown through the characters and their stories. I appreciate how she showed faithfulness through sticking to a spouse even when they aren't doing the right thing. So many times the advice nowadays is "leave him." That isn't helpful. What is needed is prayer, encouragement, counseling, wisdom, friendship, etc. I'm glad she didn't show a "perfect little happy ending," but took some time to show the chance of a happy future. It wouldn't have seemed true to life otherwise. The characters are believable because she shows their strengths and flaws and puts them in everyday settings. Of course, I enjoy the medical side of the books, too, being a nurse. It's great that she checks with her nurse practitioner husband first. I'm one of those people watcihing ER or a medical show and picking our all their mistakes! I will certainly read anything Elena writes in the future." – Salem, Oregon