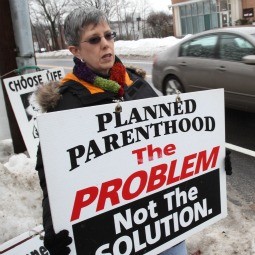 That's funny. Apparently the folks at Illinois Planned Parenthood have their own affairs so well in hand they have appointed themselves guardians and nursemaids to the Department of Children and Family Services (DCFS). So much so, that they are lobbying against a new bill that would expand the mandatory reporting requirements for sexual abuse, because they're afraid it will "overload" the state social services.
David Schmidt at LiveAction:
There is a proposed law, HB 2093 that would expand who is a mandated reporter of child sexual abuse to include every employee or volunteer of any organizations that provides or refers for reproductive health care. This more expansive definition of who should be required to report child sexual abuse is consistent with most other states that I have looked into.
Planned Parenthood, however, is concerned that state child advocates will become overworked if the bill is made law. Not only that, but they seem to believe that the DCFS is staffed by deaf mutes who are incapable of researching the potential legislation, drawing their own conclusions, and protecting their own interests if needed without the assistance of those who take child abuse to the bloody limit. Here is their statement from the Planned Parenthood website (hat tip to Live Action):
HB 2093 requires office staff and volunteers of organizations that provide reproductive health care or sex education to be mandated reporters of child abuse. All doctors, nurses and teachers are already mandated reporters. Therefore, these organizations are already legally required to make reports. This bill creates redundant regulations that have the potential to overload the Department of Children and Family Services.
On the other hand, maybe all that concern is just a smokescreen, because Planned Parenthood can't state what really worries them about the bill. That it would increase the number of people inside their abortion mills required by law to report child abuse — something that could definitely spell trouble for them.
After all wouldn't that be a little like a new requirement to report gambling at Rick's? Or Marxists in the White House? Or people eating at Taco Bell?