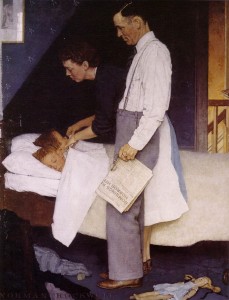 For some reason, the news that two Iranian warships will chug their way, unhindered, through the Suez Canal for the first time since throat-cutting theocrats garroted the nation over thirty years ago, makes me think of Norman Rockwell's Hitler-era painting "Freedom from Fear."
Rockwell painted it during a time when fear wore jackboots and swastikas, but, sadly, the image is a timeless: Parents and their sleeping children sharing a short, quiescent moment of peace — even as the newspaper warns that malevolent forces surround them, clamoring to butcher the innocent in their quest for absolute power. 
I wonder how many Israeli mothers and fathers will watch their children sleep tonight, not knowing who among them will be ultimately terrorized, maimed, or blown apart; because Egypt's new management decided it would be fine to expedite Iran's rocket deliveries to their terrorist clients in Gaza and Lebanon.
Cairo's approval Friday, Feb. 18 for two Iranian warships to transit the Suez Canal on their way to the Mediterranean has brought Israel and Iran closer than ever before to a naval collision at sea. DEBKAfile reports: Israel has learned that the Iranian cruiser Kharg is carrying long-range missiles for Hizballah which it plans to unload at a Syrian port or Beirut harbor.

Friday, Israeli government and military officials were urgently casting about for a way to prevent those missiles reaching the Lebanese terrorists. Heavy US and Israeli pressure failed to dissuade Egypt's military rulers from letting the Iranian flotilla through Suez. So now the waterway has been opened wide for Iran to consign heavy weapons deliveries to Syria and Lebanon – in the first instance, and eventually to try and break Israel's naval blockade on the Gaza Strip and bring Hamas the heavy munitions that were impossible to transport through smuggling tunnels.
If this issue isn't defined by innocent children and worried parents, it should be. Burned and bloodied Israeli civilians are the tender, soft underbelly that black-hooded dirty-fighters target in their obsession to drive the Jews out and populate the region with head-bashing misogynists like themselves.
And now, with Egypt's help, it is much easier for Iran's genocidal proxies to visit terror, fire, and mayhem upon Jewish neighborhoods. And there's not a lot they can do about it. They already know from experience that their plight will be ignored by the rest of the world; unless, of course, they try to defend themselves or even retaliate. Then the world will turn on them, and make them objects of censure and derision.