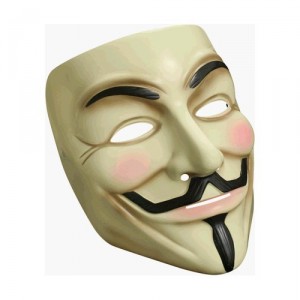 Sunday intrigue: While the free world was bracing for Julian "the weasel" Assange's latest blast of cyber-terrorism, two unexpected events occurred: A Tweet appeared from a mysterious self-proclaimed "hacktivist for good" — whose leetspeak Twitter handle translates to "The Jester" — declaring "Tango down." Then, almost as if in response, the WikiLeak servers became silent and inert.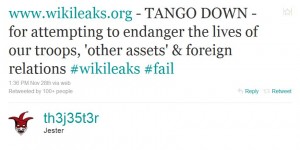 ABC News:
A computer hacker is claiming he temporarily disabled the WikiLeaks site Sunday afternoon, right as the latest dump of leaked State Department memos were scheduled to publish on the site.

"www.wikileaks.org – TANGO DOWN – for attempting to endanger the lives of our troops, 'other assets' & foreign relations," he tweeted late Sunday morning.

"Tango down" is a special forces military term for having eliminated a terrorist.

He goes by the Twitter handle "th3j35t3r", which is leetspeak for "The Jester."
Unfortunately the info-dump was merely delayed; nevertheless, after months of enduring Assange's smug, seemingly unchallenged, ferret-faced countenance; the emergence of a patriotic nemesis onto the scene provides some respite for the mind. Face it, it's not like we're getting any such relief from our own government.
On his website, th3j35t3r calls himself a "hacktivist for good." A "hacktivist" — a hacker-activist, supposedly hacks for a good cause. His cause is preventing young people from being recruited online by jihadists. He does this by hacking jihadist websites, and temporarily disabling them.

"PS for me personally WL is a sideshow target, I am more interested in the big jihad recruiting and training sites," he said Sunday in a direct message to ABC News via Twitter, referring to hacking the Wikileaks website.