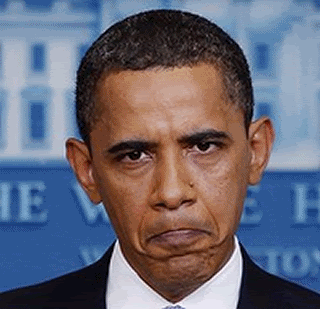 Interesting. Louisiana Governor, Bobby Jindal, says President Obama told him not to "go on TV and criticize him" during the oil spill crisis last spring. This is a little hard to absorb considering Obama's own full-throated voice frequently joined the partisan chorus that perpetually eviscerated the Bush Administration — a shameful episode that cavorted recklessly about the line of sedition by dragging America through the mud and emboldening our entrenched and deadly enemy.
I know, it's not like we didn't already know that our adolescent-in-chief loves to dish it out but can't take it, but I'm still astonished by this level of naivete — although I suppose it could have just been forgetfulness. Like maybe he forgot he wasn't King — and he wasn't talking to NBC. I don't know… you got me. 
At any rate, there is a staggering level of hypocrisy at play here.  Right Scoop at Hot Air:
This is interesting, having just finished another election season where Obama lied and smeared Republicans on TV every chance he got. He used that car-in-the-ditch-Slurpee metaphor so much that even the news media was begging for something new.
Here's the transcript of his comments this morning on Glenn Beck:
PAT: Governor Jindal, did I hear that I also said something to the effect that you better make you better not make it sound like he didn't care about people? Did he say something along those lines to you?

GOVERNOR JINDAL: You know, the two interactions that were surreal to me, the second time that he came to the state after the oil spill, he ended his meeting by basically telling me and the Plaquemines Parish that he didn't want to see them go on TV to criticize them. He said he didn't want to see us on CNN. So I'm assuming, Glenn, we can go on other channels, Fox and criticize them. Apparently, Glenn, he was frustrated that we were going on TV to criticize them. His first visit, the very first time he comes to Louisiana after the oil spill, he pulls me aside during a publicity stunt and I can understand if he was angry about the bureaucratic response to the oil spill, the walk of life, Glenn, I would have understood that, it would have made sense to me. He was angry about a bureaucratic letter about food stamps. He said, careful, this is going to get bad for all of us. But you got a White House, a president that seemed more worried about perception and politics. In the book Leadership and Crisis, got all kinds of red tape and bureaucracy that I didn't move quickly.
Here is the video in toto. There was much more covered than the above excerpt, and it is all well worth a listen.