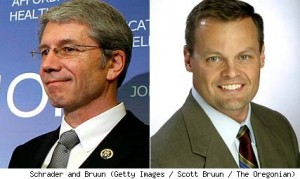 Success? Wow. This is definitely a new emotion for us Oregon conservatives — the do-do birds of the Northwest. Most election years we work our butts off for nothing!
Bruun leads among both men and women, in all but one age demo (50-64YOs, 46/47), and has an 11-point lead among independents, 49/38.  Among those neutral about the Tea Party movement, he holds a 24-point lead, 56/32.  The one worrisome demographic is those who have already cast ballots in early voting; he narrowly trails Schrader, 46/47.  Among likely voters yet to cast their ballots, he leads 51/41, the same percentage as the overall poll.

Obviously, Bruun needs to push turnout, and those interested can visit his website to discover how they can help.  If Republicans take this one by a wide margin in a blue state like Oregon, it's hard to imagine where Democrats can successfully build a firewall.
Funny Kurt Schrader is a bleeding-heart liberal. I never took my dog to him because he was too darned expensive.