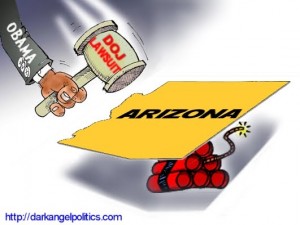 Judicial Watch is looking into it, but their inquiries have run up against the administration's standard boilerplate brick wall: "Sue me!"
This is pathetic when you consider who President Obama has deemed privy to his quest to force Arizona to stop enforcing federal law: Mexico, China, and the U.N.'s exclusive club for despots and tyrants also known as the Human Rights Council. It makes you wonder why Judicial Watch is left out in the cold, being as they are (a) Americans, and (b) not murderous thugs or flaming hypocrites.
Nevertheless, it's going to take a legal fight before the administration will accommodate their investigation into who was behind the litigious swarm of winged monkeys President Obama sent to defend identify thieves and drug runners squatting on forfeited Arizona real estate.
Judicial Watch, the public interest group that investigates and prosecutes government corruption, today announced that it has filed a Freedom of Information Act (FOIA) lawsuit against the Obama Department of Justice (DOJ) for information regarding the DOJ's decision to file a lawsuit against Arizona over the state's tough new illegal immigration law, SB 1070. Judicial Watch seeks documents pertaining to the Obama administration's contacts with third party organizations, such as the American Civil Liberties Union (ACLU), in making the decision to file the lawsuit. […]

 "The American people ought to know if the Obama Justice Department is being run by radical leftist organizations such as the ACLU. I suspect that the Obama Justice Department is making decisions on behalf of its leftist allies, instead of in the public interest," said Judicial Watch President Tom Fitton. "This is a simple request for information. The Obama administration should stop stonewalling and release these basic documents on its decision to attack Arizona over its get-tough illegal immigration law."
It would have been simpler if they had bribed Qaddafi to get the information for them.