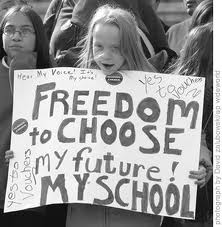 President Obama knitted his brow for Matt Lauer Monday on NBCs Today Show and clucked regretfully about the lousy education his daughter's less privileged peers are stuck with in Washington D.C. – a vacuous and outrageous spectacle in light of the true story, that Obama's loyalty lies with teachers' unions which block all attempts to transform schools into merit-driven institutions dependent upon the satisfaction of choice-empowered families.
As part of NBC's week-long series on education, President Obama sat down with Matt Lauer on The Today Show for an interview on education. An audience member asked whether his daughters could receive the same high-quality education at a D.C. public school that they currently enjoy at their elite private school, Sidwell Friends. Obama replied, "I'll be blunt with you. The answer's 'No' right now." And, no doubt unintentionally, the president went on to deliver a beautiful thesis on the necessity of school choice: 

"I'll be very honest with you. Given my position, if I wanted to find a great public school for Malia and Sasha to be in, we could probably maneuver to do it. But the broader problem is: For a mom or a dad who are working hard but don't have a bunch of connections, don't have a choice in terms of where they live, they should be getting the same quality education as anybody else, and they don't have that yet."
Unfortunately Obama's actions don't match his fine-sounding expressions of regret. Especially considering that at the union's behest, he killed a robustly fruitful D.C. school-choice program in its cradle, relegating thousands of children back to their old pre-designated failure factories – those notorious asylums fiercely guarded by the unions for the protection of indolent and unaccountable educators.
"Given the position" of the thousands of low-income D.C. children who have watched this president stand by as Congress phases out the D.C. Opportunity Scholarship Program, that remark must have stung. For D.C. families unable to "maneuver" their way into a private school and instead assigned to a failing public school based on where they live in the District, the D.C. Opportunity Scholarship Program, which provides vouchers of up to $7,500 to low-income children to attend a private school of their choice, has been a lifeline out of the unsafe and underperforming D.C. public-school system.
That's why all that presidential handwringing with Matt Lauer left me a little cold. I wonder what Obama has for an encore. Ground all the busses and then assume an appropriately aggrieved expression as his daughters' age-mates trudge to school through the snow?
The president may invoke the language of school choice, but the reality is that last spring, 216 children in the nation's capital had scholarships wrenched from their hands by the Department of Education, in some cases just days after receiving what was likely a life-changing letter of acceptance into the D.C. voucher program. The families of those children will certainly not be fooled by Obama's newfound affinity for school choice. 
On the brighter side, we have Governor Chris Christie of New Jersey – a state, incidentally, where 30% of 8th graders can't do basic math — unveiling a plan to improve the schools which once again emphatically distinguishes him as the anti-Obama.
While Obama carries water for the teachers unions, Christy tells them to take a long walk off a short pier. While Obama wrings his hands and moans about a problem after he aborted its solution, Christie doesn't waste time grieving. He takes action, enacting sweeping common-sense reforms much like those Obama quashed:
On Tuesday, Gov. Christie announced new plans to tie classroom achievement to pay increases and career advancement for teachers, redefining the standards for teacher performance and moving away from a seniority- or tenure-based system.  In its place, Christie hopes to implement a more top-to-bottom overhaul of New Jersey classrooms.

[…]

Christie's planned reforms include prohibiting salary scales based on seniority and awarding tenure and pay raises based on classroom performance. "We are paying a fortune for something that is not giving our children the hope and the feeling that their tomorrow can be better than their future," Christie said. 
I'm not sold on government schools for many reasons. But for the many families who are stuck with them, Christie is their greatest friend and most loyal ally. Now we just need enough savvy citizens to follow his example and tell Obama and his union buddies to go pound sand this November.