No more anatomy lessons on Sesame Street.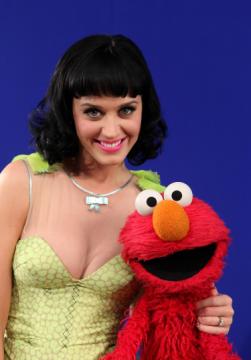 The Sesame Street segment with Katy Perry in a skimpy bustier regaling toddlers with one of her signature raunchy numbers is history, and good riddance.
It seems that a number of parents disagreed with the idea of a few inches of green cloth and some strategically-placed double-sided tape being the only things keeping Johnny's "education" from going to a completely new level.
For commentary, I defer to a bit of burlesque from Jarett Wieselman at the New York Post: "Today we're going to learn the letters S, T and D."
And what's all this about adapting vulgar and profane pop songs for our three year olds? Is there some severe shortage of age-appropriate preschool music that I didn't know about? And if so, what does PBS have planned next for your three-year-old? Perry singing "I tricked a girl and I liked it?"   
Good grief! Whatever happened to "Old MacDonald Had a Farm?"
All I can say is hurray to the parents who complained. It gives me hope that there are still sane moms and dads who would not approve pole-dancing lessons for their five-year-old daughter or insult and malign a fellow parent who doesn't allow her six-year-old cheer-leader to "shake" her "booty."
PBS believes this is age-appropriate educational TV for preschoolers: