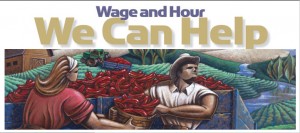 Remember those Department of Labor television commercials that have been running lately? You know, the ones where Labor Secretary, Hilda Solis, asks illegal Mexican immigrants why they have no respect for our laws?
Just kidding, of course. Really it was an information campaign to inform illegal workers that they have the same right to a fair wage as real Americans – a program that you and I are hiring 250 investigators to implement. Also, we're paying for Solis' commercials, of course. Aren't we generous?
The latest development is that Judicial Watch has been forced to sue the stonewalling Obama administration for information relating to the program, which Judicial Watch says "demonstrates just how backward the Obama administration's approach to illegal immigration is."
 The Obama White House attacks the State of Arizona for passing a law to enforce federal immigration law, while using taxpayer funds to help illegal aliens work illegally in the United States. No wonder the Obama Labor Department is stonewalling the release of any documents that could shed light on this scandalous waste of taxpayer resources," stated Judicial Watch President Tom Fitton.
Here is the commercial:
I just wonder who determined what the wage guidelines should be for identity thieves after they sneak into the U.S. and go to work for unscrupulous law-breakers? Where was I when that law was passed? Also, after the tight-wad employer has been ratted out, do they pony up the difference before or after they're prosecuted for breaking the law? Something, by the way, that shouldn't bode well for the worker continuing to pull down any wage. After all, when you're caught flaunting a law in the U.S., it's usually customary to cease the illegal activity around that time.
And of course, we're assuming that none of these 250 "investigators" that you and I hired for this brilliantly conceived program will bother to ask the illegal worker what he's doing here in the first place.