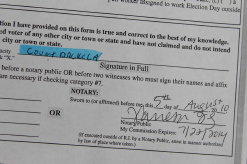 Rhode Island was one of five states granted a waiver from the Military and Overseas Voter Empowerment Act (MOVE), a new federal law that requires absentee ballots be mailed out to deployed military at least 45 days prior to an election. That caught my eye because while Rhode Island officials feel that ensuring the voting rights of overseas military poses an undue hardship, they are making sure that a mental patient who thinks he is Count Dracula and Rudy Valentino will have his views represented on Election Day.
According to the Election Law Center, "Patients in Rhode Island's state psychiatric hospital will be allowed to vote in the November election despite signing voter registration forms as 'Count Dracula' and 'Rudy Valentino.'"
Vanessa E. Volz, a lawyer with the Rhode Island Disability Law Center who had notarized all 32 forms, told the three-man Board of Canvassers Thursday that she had conducted a patient training session on voter rights at the hospital and returned days later with voting forms.

On Aug. 5, the day in question, according to the notarized forms, Volz said she sat at a table in the hospital's Day Room, a community room where patients gather to watch television and socialize, and patients interested in voting "came over."

"I asked the questions and I filled them out," Volz said of the mail-ballot applications, confirming why all the forms showed the same handwriting.
In the same article, the Journal stated that the Rhode Island elections officials had upheld the right to vote of two men who had been found not guilty of murder by reason of insanity.
Meanwhile, the brave Rhode Island residents serving our country overseas have their fingers crossed that they will be able to vote, too.