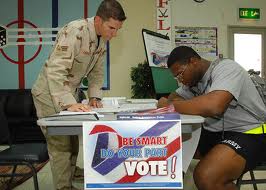 Something new for the 2010 election: Apparently states will be in violation of federal law if they don't allow plenty of time to get absentee ballots to those who can't be home on Election Day because of prior commitments with crazed jihadists.  
The strangest phrase in the previous paragraph is "will be." At least it is to me. Isn't it strange that states are only just now in violation of the law if they can't bestir themselves to make sure those who are sent overseas to guard our freedom are allowed to vote?  Only now?
But it gets better.  Apparently ten states have told the feds that getting ballots to the soldiers 45 days before the election would be too difficult, and have applied for waivers — five of which were granted.
I have written previously here at PJM that all waiver requests should be denied. Unfortunately, if you are an overseas service member from Delaware, Massachusetts, New York, Rhode Island, or Washington, the protections in the MOVE Act aren't going to apply to you this year. And if you are from one of the states who still aren't in compliance with MOVE — like Colorado, Wisconsin, or Alaska — don't be surprised if you get scant help from Attorney General Eric Holder.

Waivers can be granted from MOVE only if states find a way to make sure the votes of service members are still counted.

Washington, despite having plenty of time after an August 17 primary to get the job done, received a waiver today. Washington was unwilling to change their schedule of ballot preparation to allow for 45 days mailing time. Though modern printing technology makes the Washington waiver unnecessary, it was granted.

In related news, while some of our deployed military are being told that their chance to vote still isn't guaranteed, the Department of Homeland Security is going to bat for an illegal immigrant who fraudulently voted in past U.S elections. Incredibly, federal officials are asking the Putnam County, Tennessee, administrator of elections to purge the serial lawbreaker's name from the 2004 voting records, because that pesky little detail is tripping up their plan to turn him into a real U.S. citizen.
Not only that, but the unidentified illegal immigrant used a fraudulent social security number and false ID when he registered to vote in 2004. And his vote canceled out one legitimate vote, violating the constitutional rights of a legal citizen.
All minor details, however, to the feds. Little annoyances that need to be taken care of before he raises his right hand and swears: "… I will support and defend the Constitution and laws of the United States of America against all enemies, foreign and domestic; that I will bear true faith and allegiance to the same…" 
I'm surprised he was even asked to show ID. Isn't that racist? But I digress. So, Illegal aliens can steal votes and identities and then be rewarded with citizenship. I guess this means our military personnel are risking their lives in a desert hell-hole not only to protect our right to vote legitimately but some foreigner's ability to vote fraudulently as well. Not that they're given a choice regarding the latter.
But the true travesty is that it is so easy for non-Americans to influence our policy through the ballot-box, while that same right is still in limbo for many of our military personnel. Their ability to vote should never be in question — even for one second. It should be every state's highest priority.
Update:  Ed Morrissey at Hot Air points out that noncompliance with MOVE, and a corresponding suppression of military absentee ballots, could swing election results in four states. However, he points out that there doesn't seem to be any penalties for noncompliance, stating that "military voters are the only ones penalized." Pathetic.