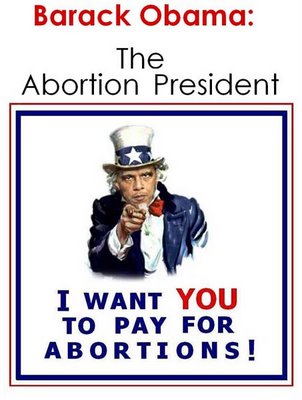 Spring 2010: President Obama signs an executive order legalizing any and all trickery required to con Representative Bart Stupak into voting for taxpayer-funded abortions.
Summer 2010: Obama starts invoicing pro-life taxpayers for expenses related to burning, poisoning, and butchering pre-born Pennsylvanians.
Below: Obama eloquantly declares that he will say or do anything to get healthcare passed. Or something like that. Hat tip to theBlogProf.
"The Obama Administration will give Pennsylvania $160 million in federal tax funds, which we've discovered will pay for insurance plans that cover any legal abortion," said Douglas Johnson, legislative director for the National Right to Life Committee.

Johnson told LifeNews.com: "This is just the first proof of the phoniness of President Obama's assurances that federal funds would not subsidize abortion — but it will not be the last."

"President Obama successfully opposed including language in the bill to prevent federal subsidies for abortions, and now the Administration is quietly advancing its abortion-expanding agenda through administrative decisions such as this, which they hope will escape broad public attention," Johnson said.

The abortion funding comes despite language in the bill that some pro-abortion Democrats and Obama himself claimed would prevent abortion funding and despite a controversial executive order Obama signed supposedly stopping abortion funding.

The pro-life community strongly opposed the executive order and said Rep. Bart Stupak and other House Democrats who voted for the pro-abortion health care bill in exchange for it were selling out their pro-life principles. This first case of forcing taxpayers to pay for abortions under the new law appears to prove them right that the bill language and executive order were ineffective.
Look on the bright side. If it weren't for Bush, you'd be paying for partial birth abortions as well.
Update:  What others are saying: Duane Lester at All-American Blogger points out in his piece Bart Stupak, Call Your Office: Federal Dollars Covering Abortions in Pennsylvania that technically it is the lucky survivors of gestation who will be billed for the murder of their peers.
Clyde Middleton at Liberty Pundits discusses the notoriously vague definition of maternal "health" that abortion defenders frequently trot out to justify tearing tiny people to pieces in Barry's Baby-killing Machine is turned on.
In Remember when Stupak held out for that executive order against Fed abortion funding? Tabitha Hale at Red State marks the extinction of the pro-life Democrat, stating, "…Bart Stupak, this is on your head."