Illegals actually reported to ICE! And maybe even deported!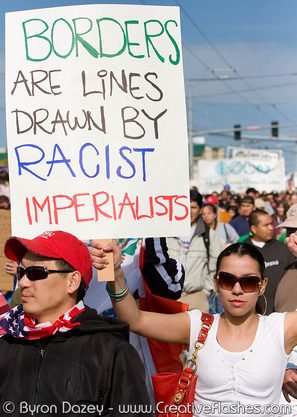 What a shock to learn that Rhode Island state police were racist, tea-bagging, Glenn Beck zombies even before Beck had a show; when a tea party only involved Royal Doulton, lemon biscuits, and shirtless Colin Firth; and SB1070 was still just a twinkle in some Arizona Klansman's eye.  
Sitting in his office in an old farmhouse off a country highway, Doherty said the State Police had collaborated with federal immigration officials before, but the relationship has become more formal in recent years. In 2007, he said, he trained all state troopers in how to deal with noncitizens because of widespread confusion and because Congress did not resolve the issue of illegal immigration. Troopers learned to notify consulates when noncitizens are arrested, how to recognize different forms of identification, and how to deal with different cultures.

In 2009, Doherty took it a step further and enrolled in the 287(g) program, which designated four troopers as immigration task force agents to assist in investigating drug and human trafficking and other crimes.

They also help regular troopers report illegal immigrants to ICE. Troopers say the issue typically comes up during criminal investigations or when motorists don't have driver's licenses, and police need to verify their identities with the center in Vermont. 
As Wizbang points out, this has turned the Massachusetts border into a veritable Mason-Dixon-like magnet for beleaguered identity thieves and future Democrat-voting sojourners from all points south.
This is one of those circumstances where, in some states, it's actually more advantageous to not be an American citizen. If an American is caught driving without a license in an unregistered, uninspected car, he's looking at some serious charges. Whereas in some states (yes, Massachusetts, I'm looking at you), the "illegal alien" status works to your advantage — the cops know they can't really do anything of real substance to you, so they often let you walk.

There is something seriously wrong when American citizenship is an actual detriment.
This poses a pickle for President Obama who just unleashed a scourge of Justice Department locusts to make Arizona stop enforcing the law. That just leaves frogs, flies, or boils for Rhode Island. On behalf of the taxpayers, I hope he picks the flies. They seem cheapest.
Video: A state trooper — who also happens to be a legal immigrant from Mozambique –- describes immigration screening and enforcement duties in Rhode Island.
UPDATE for accuracy adjustment: I was referring to Colin Firth's definitive portrayal of Mr. Darcy in the 1995 version of Pride and Prejudice (the only version worth watching). Specifically the lake scene that had feminine tea-drinkers sloshing their chamomile all over the Irish linen in both hemispheres. However, he wasn't shirtless. I haven't watched it for awhile!