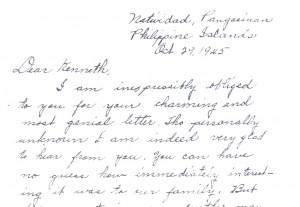 Shortly after my uncle, Bernard Polehn, was killed in the Philippines in August, 1945, my mother found that her grief was keenly shared by a young Filipina woman named Susan Mones. (Susan mistakenly addresses my mother as "Kenneth" – actually my father's name.)

Natividad, Pangasinan Philippine Islands Oct. 29, 1945

 

Dear Kenneth,

I am inexpressibly obliged to you for your charming and most genial letter. Tho personally unknown I am indeed very glad to hear from you. You can have no guess how immediately interesting it was to our family. But before venturing any further may I hope you all be always in good condition as I do here.

Oh! What a sweet and nice picture you have. You look really a jolly cute and kind-hearted looking lady. The two kids are really a nice pair. They are very robust and healthy. What a nice natural view too. How I wish I could have one like it. If Bernie is only alive then you can have a bird's eye view of our place. You can have no guess how I precious your picture.

You don't believe, I think, because you have not been to our place. The time I pass though their fox holes of Bernie and company, it remains me of his good ways he had shown us. Although he is gone still his name is fresh to me and the kids with whom he used to play with before. Though he died, his death is honorable. He has given his life for the sake of his native land. Not like the other GIs who died because of too much drinks and through carelessness. Some drove too fast that their trucks go to the ditch or bumps to the big trees or bridges on the street. Even nowadays that the campaign is over, still lots of them are killed. But if it's only possible, I want that my friend Bernie is still on earth to enjoy the happiness of life and join the joys of the family, too.

If only life could be tied I should have tied Bernie's life. I really lament for the lost of a nice friend I have ever met. Tho I met some others, but it's not like Bernie. I wouldn't change the nice friend I ever met. It's not easy to find friends like him.

As to my picture, I'll just give you my graduation picture now because I got no chance to visit the photographer. You know time is not all mine. I am busy nowadays making my reports for the promotion of my pupils. It's not easy to be under superiors, you can't have most of the time. I got but just a little spare hours. I'll just be patient for if you have no patience and perseverance you won't succeed in life.

Kenneth, dear, I would like to send you some souvenir but registered mail and air mail in the Philippines is not yet opened. However, I'll try to send you as soon as the registered and air mail here will be opened.

It's not like there that the air mail is opened. That's all for this mail, next mail again.

I hope that you won't learn to forget and we'll continue exchanging news from each other. I do hope you won't be tired writing me. One of my hobbies is reading and writing friendly letters, especially friends from a distance. Is that right. By by –

Sincerely Yours,

Susan

P.S. Would you mind tell me your birthday?