Oh yes, a definite improvement over Justice Stevens.
LITTLE ROCK, Ark. (AP) — As a White House adviser in 1997, Supreme Court nominee Elena Kagan urged then-President Bill Clinton to support a ban on late-term abortions, a political compromise that put the administration at odds with abortion rights groups.

 Documents reviewed Monday by The Associated Press show Kagan encouraging Clinton to support a bill that would have banned all abortions of viable fetuses except when the physical health of the mother was at risk. The documents from Clinton's presidential library are among the first to surface in which Kagan weighs in on the thorny issue of abortion.
Considering that President Obama never met an abortion he wouldn't fight for, including partial birth savagery, I wonder if he was aware of Kagan's opposition to THIS: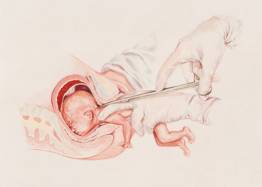 Brenda Pratt Shafer, a registered nurse from Dayton, Ohio, assisted Dr. Haskell in a Partial Birth Abortion on a 26-1/2 week (over 6 months) pre-born baby boy. She testified before the Senate Judiciary Committee (on 11/17/95) about what she witnessed. According to nurse Shafer, the baby was alive and moving as the abortionist "delivered the baby's body and arms – everything but the head. The doctor kept the baby's head just inside the uterus. The baby's little fingers were clasping and unclasping, his feet were kicking. Then the doctor stuck the scissors through the back of his head, and the baby's arms jerked out in a flinch, a startle reaction, like a baby does when he thinks he might fall. The doctor opened up the scissors, stuck a high-powered suction tube into the opening and sucked the baby's brains out. Now the baby was completely limp."